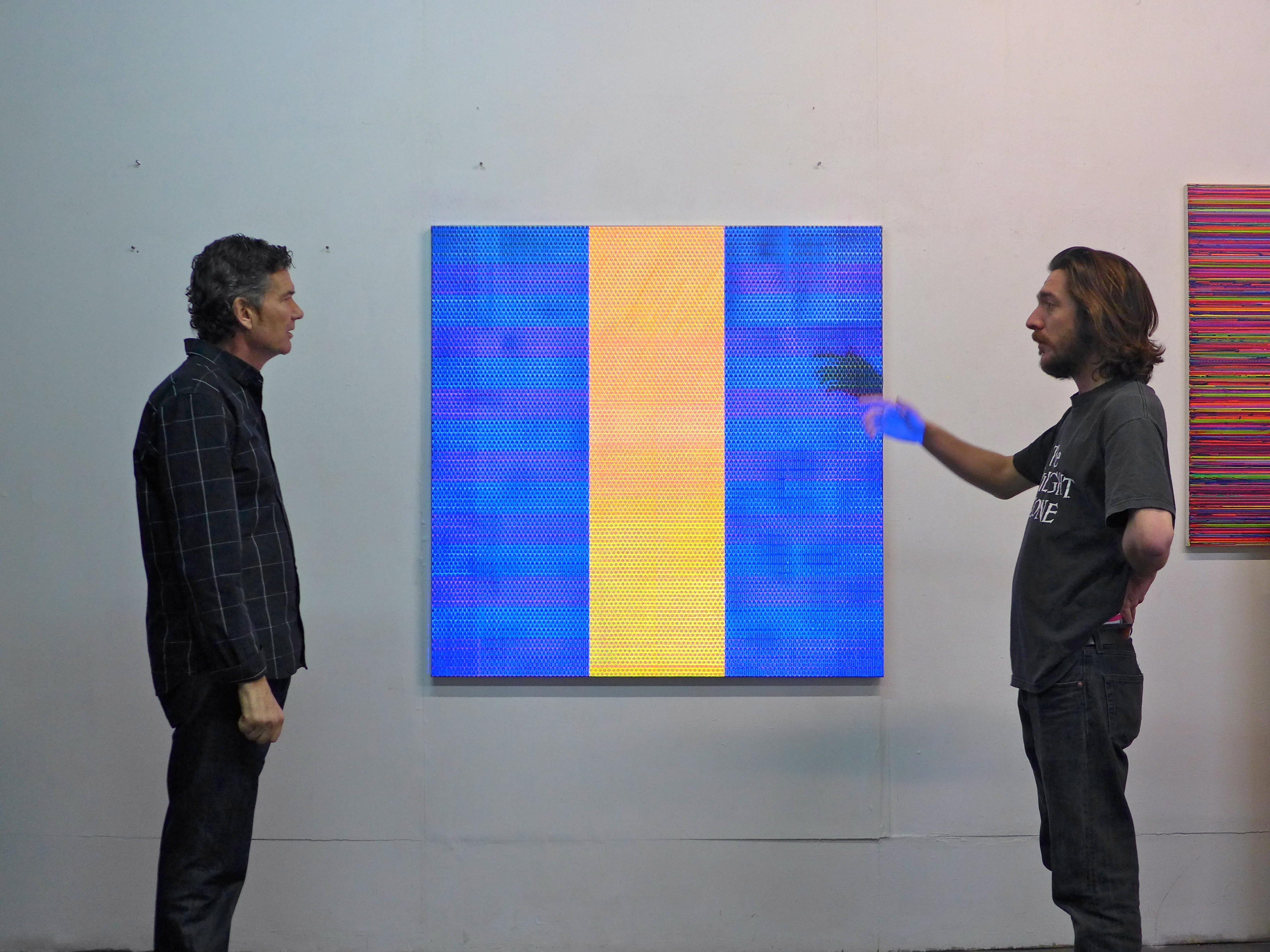 Interactive light projection with painting
Colin McCallum & Gabriel Lecup
Barcelona & London, 2014-2016 
PROJECT IRIS is a video-mapped painting which evolves according to the viewer's position in space. The superimposed layers of fluorescent materials used in the painting react to large sections of pure coloured light video-projected onto it. A head-tracking device linked to custom software translates the user's changing point of view into variations of colours in the projected light. Each new viewing generates a unique and dynamic visual experience, derived from the same original work.
The pigments used to create the painting are chosen and mixed according to their light absorbing and refracting properties. They are applied in overlapping layers of sequenced geometric figures inspired by the serialized patterns and digital structures of our modern western culture. The bottom layers are in places completely covered and remain invisible in regular lighting, but they react and are revealed by the specific colour temperatures of the projection.
The video-mapping is produced using regular equipment and techniques, but is composed as an interactive and intelligent light-source rather than a projected image. The custom software linking the position of the user to the colours of the projection is designed to allow precise and rapid micro-variations beyond the reach of video-production software, and must be adapted to each venue's physical settings and lighting conditions.
PROJECT IRIS is a result of the on-going collaboration between Scottish painter Colin McCallum and French video artist Gabriel Lecup. The work in progress has been presented in « Collaboration Station – Centro de Arte Mutuo – Barcelona, 2015 », and in « Festa de Folls – Addicted to Life – Barcelona, 2015 ».
Collaborators: 
Colin McCallum (www.colinmccallum.com) – painting
Presentations:
2017  Art Rooms, London
2016  Conexión Cromática, Addicted To Life, Barcelona
2016  BTV Artic, Barcelona
2015  Festa de Fols, Addicted To Life, Barcelona
2014  Collaboration Station, Centro Mutuo, Barcelona