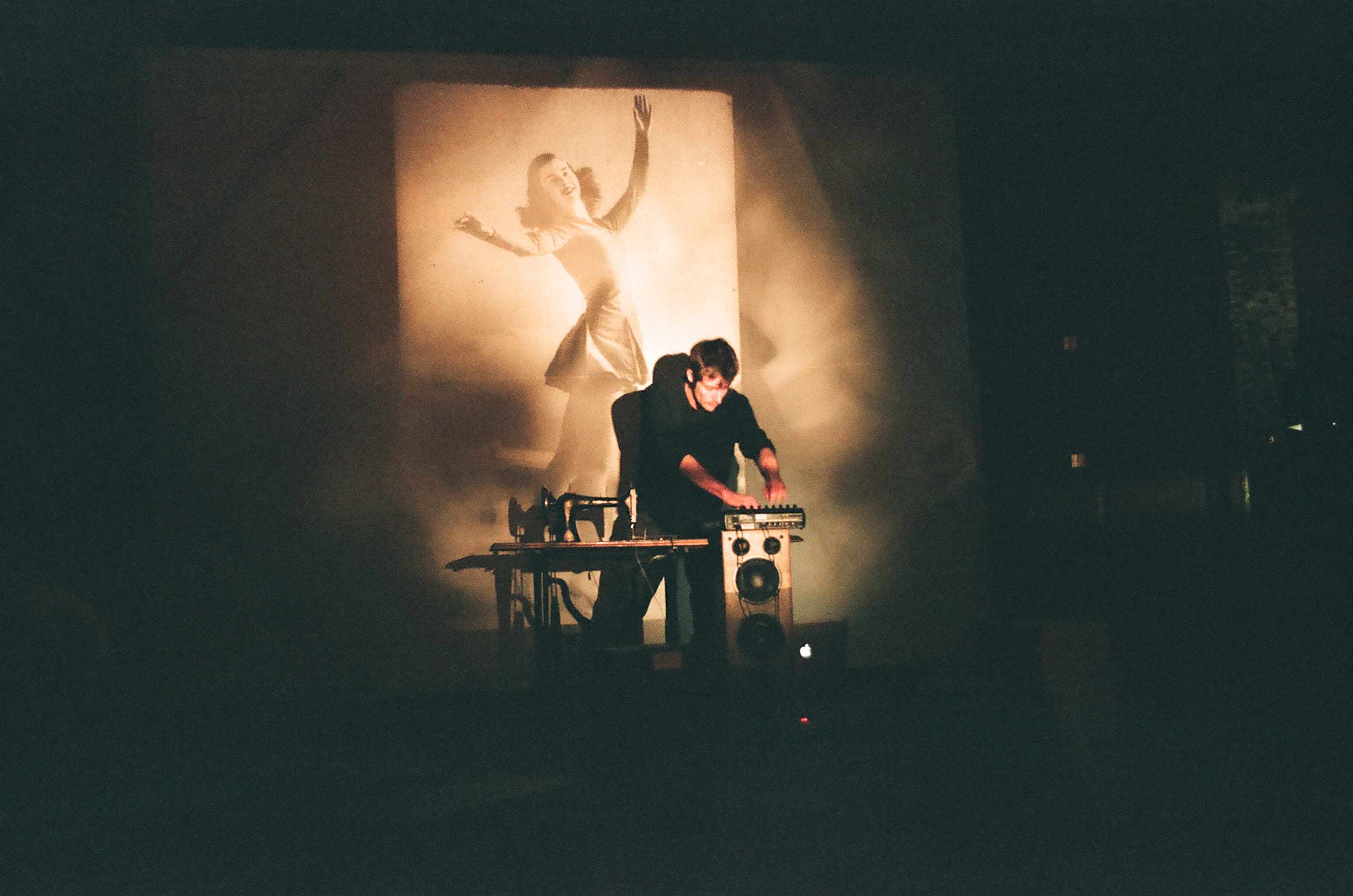 Sound Art Performance
2012-2018
An ancient sewing machine is transformed into a string instrument, amplified and digitally processed. The foot pedal actions a plectrum plucking a guitar string, the pitch is modulated with a bottleneck slide on the left hand, the right hand controls custom effects.
The device was built as a tool for an intuitive approach to musical intervals, reproducing the primitive experience of searching for harmonics on a vibrating string. The human player, the mechanical device, and the digital delays system constantly adapt their respective speeds to reach elusive moments of stability.
Collaborators: 
Boris Dulon – live visuals
Manufactoria – hardware construction
Aylen Torres & Milena Flores – live visuals
Mireia Arnela – choreography
Presentations:
2017  Polyvalent #10, Hangar, Barcelona
2017  Nits de Sang, Sala Hiroshima, Barcelona
2017  Arts Emergents, Ac. de Belles Arts, Sabadell
2016  Espai NIU, Barcelona
2016  Dorkbot, Hangar, Barcelona
2016  Conciertos Hypnagogicos, Antic Teatre, Barcelona
2015  Les Nuits du Beau Tas, Recycl'Art, Brussels
2013  La Générale du Canal, L'Impasse Temps, Brussels
2012  Le Chien Perdu, Brussels
2012  HS63, Brussels
Residency:
2013  Les Mariniers / La Maison de la Création, Brussels
Discography / Broadcast:
2015  City Sonic CD Compilation, Transonic, Mons
2013  Streaming @ leplacard.org, Brussels
Recycl'Art, Bruxelles, 2015:

HS63, Bruxelles, 2012: